Romantic Adventures in Pearl, MS: 5 Products To Elevate A Summer Romance
Romantic Adventures out of Pearl, MS, is a go-to destination for individuals seeking to spice up their romantic experiences. With an impressive collection of products designed to ignite passion and elevate intimacy, Romantic Adventures is your ultimate source for unforgettable summer adventures.
In the middle of the summer, men continue to look for products during these hot and spicy months. These five must-have men's products will add a sizzling summer twist to any romantic escapades.
Love Lickers Flavored Warming Oil – Sex On The Beach 1.76oz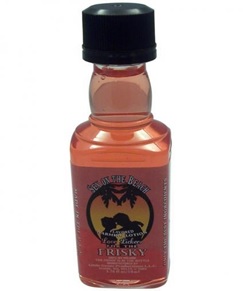 The Love Lickers Flavored Warming Oil in the enticing Sex on the Beach flavor is a delightful addition to any intimate encounter. Men love a product designed to heighten pleasure and ignite passion with its unique taste and warming sensation.
The first thing that stands out about the Love Lickers Flavored Warming Oil is its delicious Sex on the Beach flavor. The irresistible blend of tropical fruits, cranberry, and a hint of citrus creates a mouthwatering experience that adds a playful and sensual element to intimate moments. The flavor is sweet and tangy, perfectly complementing the following heat.
Speaking of heat, this product's warming sensation is a key feature. As the oil gets gently massaged onto the skin, it warms up, creating a pleasurable sensation that can enhance arousal and increase sensitivity. This added warmth adds a new dimension to foreplay and intensifies the overall experience.
The Love Lickers Flavored Warming Oil comes in different sizes, making it travel-friendly and easy to use. The bottle has a flip-top cap, allowing for precise application without any mess or waste. The oil has a silky-smooth texture that glides effortlessly across the skin, heightening tactile sensations.
This flavor is a must-try for those seeking to add a deliciously stimulating twist to their intimate moments. The combination of tropical flavors, warming sensation, and ease of use make it an exciting addition to any bedroom adventure.
Sensual Bliss with Earthly Body Summer 2022 3-in-1 Massage Candle – 6 Oz Slip 'N Slide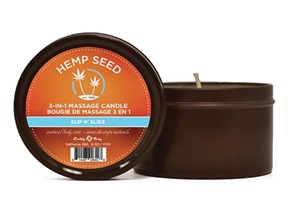 The Earthly Body Summer 2022 3-in-1 Massage Candle in the Slip 'N Slide scent is a delightful sensory indulgence that combines the pleasures of aromatherapy, massage, and ambiance.
This versatile candle is necessary for those seeking a transformative and sensual experience.
The scent is an intoxicating blend of juicy watermelon, succulent strawberry, and a hint of refreshing cucumber. As soon as you light the candle, your space will be filled with the mouthwatering aroma, evoking the essence of a carefree summer day.
Beyond its captivating fragrance, this massage candle offers a unique twist. Once lit, the soy-based wax melts into a warm, nourishing massage oil. The low melting point ensures a comfortable skin application temperature, allowing for a soothing and sensual massage experience. Enriched with essential oils and natural ingredients, the oil leaves the skin feeling hydrated, silky-smooth, and irresistibly touchable.
The Earthly Body Summer 2022 3-in-1 Massage Candle also adds a touch of romance to any setting. The soft, flickering candlelight creates an intimate ambiance, perfect for setting the mood for a romantic evening or a tranquil self-care session.
This versatile candle works beyond massage. The melted oil can also be used as a moisturizer or bath oil, providing a luxurious and pampering experience.
Gender X Flavored Lube – 4 Oz Beach Bliss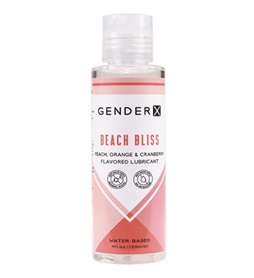 A flavored fruit that reminds people of the summer months is the perfect match for hot, intimate moments. Beach Bliss is a flavored lubricant helping everyone have a more enjoyable night. If quality and taste in intimate products are valued, this flavored lube exceeds expectations.
The specific Beach Bliss flavor was incredibly refreshing. The tropical hints of coconut and pineapple make it feel like a sunny beachside paradise. It creates a fun and playful atmosphere in the bedroom. The flavor was subtle yet noticeable, striking the perfect balance between being enjoyable without overpowering the senses.
The texture of the lube also works well. It has a smooth and silky feel that enhances comfort during intimate moments, allowing for easy gliding and reducing any potential discomfort. The formulation felt natural and gentle on the skin, making it suitable for individuals with sensitive skin.
All Gender-X Flavored Lubes last for a considerable amount of time without becoming sticky or tacky. This means fully enjoying the experience without interruptions, as reapplication was minimal.
Overall, the Gender-X Flavored Lube in Beach Bliss is for anyone seeking a high-quality flavored lubricant. Its delightful tropical flavor, smooth texture, long-lasting formula, and compatibility with various toys make it a fantastic choice for adding a playful twist to intimate experiences.
Liquor Lube Sex On The Beach Flavor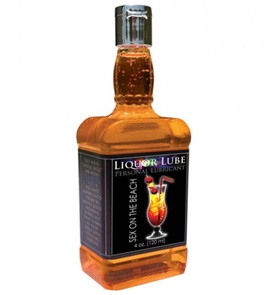 Liquor Lube: Sex on the Beach Flavor is an adventurous and compelling product. This unique lubricant aims to add a flavorful twist to intimate encounters, creating a playful and enjoyable experience for couples seeking to spice up their love life.
The first thing that stands out about this product is its enticing flavor. The "Sex on the Beach" flavor is reminiscent of the popular cocktail, promising a delightful taste sensation. It sets the tone for a fun, relaxing summer. The 4oz bottle provides a generous amount of lubricant, ensuring multiple uses for extended pleasure.
The texture of the lubricant is smooth and silky, enhancing both comfort and sensitivity during intimate moments. It is water-based, making it safe for latex condoms and compatible with all toys. The product is also easy to clean up, leaving no sticky residue.
Romantic Adventures has ensured that this product is body-safe, using high-quality, gentle ingredients on the skin. The packaging is discreet and attractive, allowing for confident and convenient storage.
Pecker Beach Ball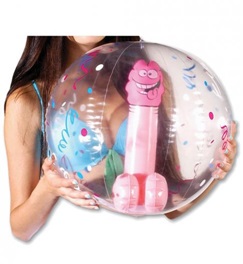 A boring, typical beach ball won't turn into a conversation piece. However, this Pecker Beach Ball adds a little bit of kinkiness to the beach or pool during the summer.
The Pecker Beach Ball has a cheeky, oversized pecker look. This inflatable ball is a guaranteed conversation starter. It is made from durable materials and can withstand hours of beach or poolside play. It's perfect for tossing around, playing volleyball, or simply lounging in the water. Its bold and humorous design adds a touch of whimsy to any beach or pool party, ensuring you and your friends have a memorable time.
Complete the look with a Boobie Beach Ball option from the same manufacturer. Whatever option a person goes with, it becomes an instant standout.
Getting Hot and Heavy For the Summer With Romantic Adventures
This summer, ignite the flames of passion and elevate your romantic experiences with these five essential men's products from Romantic Adventures in Pearl, MS. From sensual massage candles to beach-inspired boxers, adventurous couple games to pleasure-enhancing accessories, Romantic Adventures has everything you need to create unforgettable summer memories. Embrace the season of sun and love, and let your romantic journey begin with these must-have products from Romantic Adventures.